There are times when choosing Taxis are more preferred, easier on the pocket and secure than going for a ride-share. Traditional taxi still enjoys considerable support from the market share.
Let's see below how which among the two fares good Taxi vs Rideshare.
1.When you want to save on card transaction fee
When you are partying all night and you realise you need to go home and found out that all have left out is with loose cash then the best option is to go for a taxi. It is not necessary everyone will have plastic money. Even if available it might be out of reach for some reason like Bank server down or crashed.
On the other hand, if you want to save a few $$ on transaction charges then its always advisable to go for cash transaction in a taxi.
Cabcharge is the company responsible for the digital transactions in the taxi which helps in safe cashless and contactless transaction possible. Cabcharge machines are available on almost 99% of the taxies in Australia.
On all transactions a service fee of up to 5% is applicable apart from what is shown on the meter.
So, if you are a regular taxi user it is always a good idea to carry sufficient cash to avoid being slugged by this service fee.
2.When Kids travelling by their own
All the taxi drivers go through the police check before they can apply for Driver Certificate. So, when you are in a situation where you need to send your kids alone to a party or to school its always advisable to go with taxi since all the taxi drivers go with a thorough background check. Apart from the police clearance, all the taxis are fitted with security cameras which are functioning round the clock and recording each and every movement in the taxi. In case of any untoward incident, it is very easy to find out exactly what went wrong. There is no blame game from any party.
In another case where you want a regular driver in service for your kids you can always ask for Working with Children certificate. This will make you double sure that your kids are in safe hands
3.When you want to Avoid surge Pricing
Melbourne's calendar is filled with events around the year. Some are extremely popular like AFL Finals, Melbourne Cup Carnival or Formula one F1.
You can expect a huge turn around in these events and for Gig companies, these events give a high chance to rob the passenger under the pretext of fare Surging during the peak time like when the events come to an end.
What is fare surging? The logic thrown by rideshare services company like Uber behind surge pricing is to adjust prices of rides to match driver supply to rider demand at any given time. But is that the real cause? Only such companies can reply to it.
It's a common practice nowadays that when you book a rideshare service like Uber or Ola drivers with try approaching but if not willing to do the job just inform the base that the customer not available and cost u around $10 in ride cancellation.
On the other hand, the Taxi Industry is never involved in such dirty tactics. Taxi fares are always consistent whether it's a peak time or not and you pay exactly what you have been estimated. For ride cancellation, there are no charges involved. You change your mind and don't want a taxi ride just call and cancel and you don't pay a cent. As simple as that.
Please also another related blog MAXI CAB TAXI FARE and SET PRICE TAXI
4.When you are in a Hurry
Busy with office works then all of a sudden you realise you are about to miss an appointment and want to be there as soon as possible. What could be the fastest possible option? Booking a ride and waiting for the driver to turn around or get on the street and hail a passing cab.
Obviously hailing and jumping in a passing cab is the quickest possible solution.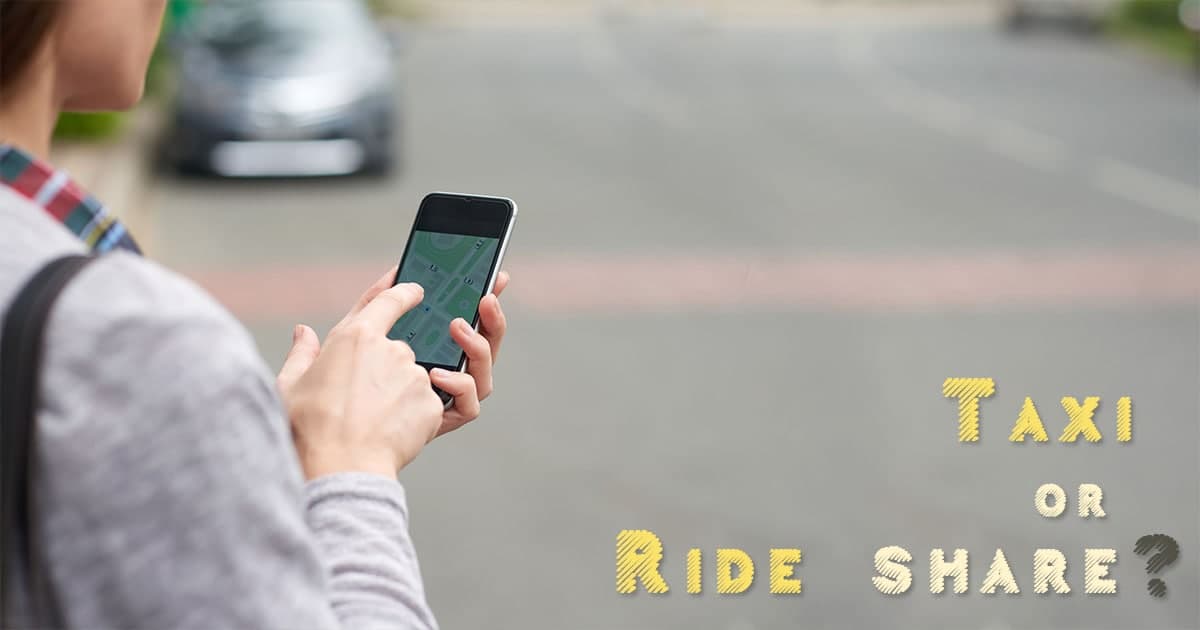 Every major street in the city will surely have taxi ranks where at any time there will be a number of taxi's waiting for the passengers. It's another good option to start your ride quickly and safely without having to wait for the driver to turn around.
The dome light on top of every taxi convey something. Do you know that?
Dome with light ON means that taxi is available to be hired.
Dome with light OFF means that taxi is NOT available for Hire.
Dome with light OFF but 2 amber lights ON indicates that Cab is Occupied
5.When you have disabled passenger
It should not be challenging and difficult for a disabled person to travel in a taxi. There are special taxi's called Wheelchair Accessible Taxi (WAT) which comes with a ramp to load and unload a wheelchair. All Disabled taxis come equipped with proper belts which are used for making sure the wheelchair doesn't move while in travel. Wheelchair taxi phone number 0456108581 for a quick ride.
A wheelchair accessible taxi can carry up to a max of 2 wheelchairs at a time.
Multi-Purpose Taxi cards are accepted across all the Taxis in Melbourne. If you are looking to apply for one such card then please visit MPTP Online form.
Customers using MPTP for travelling in taxis can avail 50% discount on the fare at the end of the trip.
Tips, Tolls and Parking fee are to be paid separately as they are not covered under MPTP scheme.
Please read other related blog on Disabled Taxi
6.When you have a large group or lots of luggage
When you have a large group of around 10 or 11 then it's always advisable to go for a maxi cab taxi services rather than hiring a couple of ride-sharing cars. This will save a lot and also avoid confusion at the disembarking point as to where others are.It's always a pleasurable journey when the whole group travel together and are with each other along the journey.
A maxi cab taxi can carry up to 11 passengers along with luggage and it is most ideal when travelling to a party or to Melbourne airport.
Is maxi cab taxi more expensive than a regular cab?
The answer is No.
For hiring a maxi cab, it will cost you $14 extra apart from the regular taxi fare.
Other time is when you are travelling and have lots of luggage which require multiple rideshare hiring. So instead of losing money on multiple cars, it's advisable to hire a maxi cab taxi Melbourne services which can accommodate loads of luggage along with the passengers. Maxi cab taxi can also be used for moving items like Fridges, Mattress, Washing machine, Surfboards, Ski Gear and moving other small to medium household items.
Please read related blog MAXI CAB TAXI for Group
7.When you need a Child seat or Car seat when travelling with kids
No rideshare services will provide you for an option to travel by car seat for your baby. But when you hire a taxi with the baby seat you can be assured that you are travelling safely with your baby in a spare seat. If you need a couple of spare baby seat it's good to go for Maxi cab taxi Melbourne which can accommodate up to 3 baby seats. While rest of the other regular taxi cabs can accommodate only 1 baby seat.
There is an overhead cost involve in hiring taxi services with baby seat as the company has to hire it out from a third party. To be more clear on charges please place a Taxi phone call on 0456108581.
An important note here In Victoria when you travel with you baby in a Taxi you are not required to have a car seat/baby seat. This exemption is only for taxi's and not for rideshare cars.
Please refer VICROADS FAQ's about Child Restraint
Please read a related blog on Taxi with Baby seat