Book Maxi Cab Melbourne offers taxi services in the city of Melbourne. We have a range of small cars up to 11-seater minibus. The majority of drivers we work with have a 10-seater Toyota HiAce commuter minibus. We cover all of greater Melbourne. All our cabs are always super clean and we welcome guide dogs in our cabs too.
The popularity of maxi cabs can be gauged with fact such as the largest taxi company in the Southern Hemisphere, Taxi Combined Services of Sydney, chose Toyota HiAce maxi cabs to help cope with passenger numbers during the Olympic Games in Sydney in 2000.
Maxi cabs have been introduced in the taxi industry at the start of 1999. The then minister for road and ports announced a new depot for 100 new maxi cab's which was also called a High Occupancy Vehicle (HOV) or Wheelchair Accessible Taxi (WAT). Maxi cabs Toyota HiAce is equipped with computer communications systems, air conditioning and one of three types of rear hydraulic lift with a 385kg capacity. This lift can be used for moving wheelchairs and also for loading and unloading luggage.
The normal taxi cabs accommodate up to four persons while the taxis which are SUVs can accommodate up to six persons. On the other hand, if you book maxi cab it has an accommodation capacity of eleven to twelve people. Melbourne Maxi cabs and wheelchair-accessible taxis can usually carry:
1 wheelchair and 8 other passengers at one time.
2 wheelchairs and 5 other passengers at one time.
The wheelchair is secured using various systems, commonly including some type of belt and clip combination, or wheel locks. You can pre-book these taxis and they offer discounts too. Book taxi online by visiting www.bookmaxicabmelbourne.com.au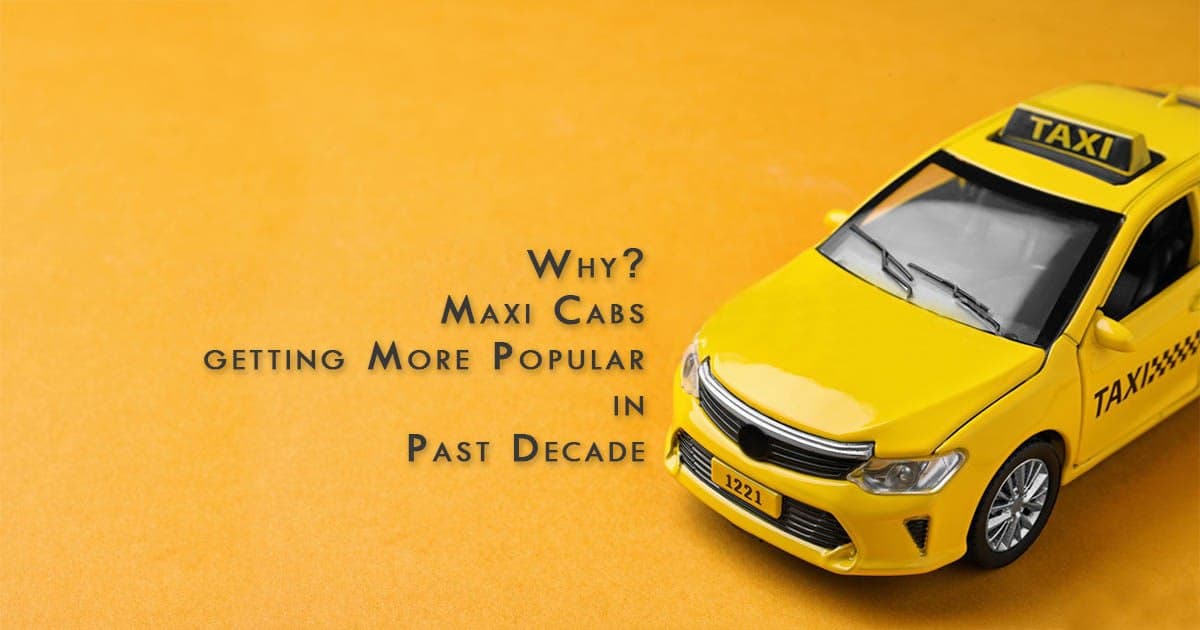 Taxi cabs and Melbourne maxi cabs are regulated by Commercial Passenger Vehicle, Victoria. Drivers apply to the Taxi Services Commission to get a driver accreditation. To cater to the demands of People with pram and children or older people with disabilities or those who are travelling in a group for all such cases regular taxi cabs and wagon taxis were not able to fulfil the demand. As the travel industry started to boom in Victoria people started to look out for options where if they are a big group they can travel together. Not only this, if you are travelling heavy with the luggage then also maxi cab is a good option to look out for.
An alternate to taxi cab was promoting maxi cab for use as high occupancy vehicle for groups or people with luggage as at the airports or ferries. With maxi cabs, transfers have become easier than before. You don't have to stuff your luggage with you into a small car. With a maxi cab, you get ample space for your luggage and for your family members too. Each maxi cab is driven by top-class drivers who are safe and reliable, they pick you up on time and drop you at your destination, safely.
Sometimes people carry large surfboards and bikes when heading to the airport. We can easily fit your bikes and surfboards. Best way to get in touch with us is book taxi online and once we receive your email, we will always send you a confirmation email.
Maxi cabs in Melbourne are so versatile they are often hired to collect bulky items such as LCD TVs, washing machine, fridges, king/queen/double/single mattresses, bed frames, tyres or any type of parcel can be delivered in record time. Maxi cab can also be used for moving houses/shifting but the prices are different. For best prices and availability please ring on Maxi cab Melbourne phone 0456108581
Rather than paying a distance fee, Book Maxi cab Melbourne can tailor some packages so you have better control of how much you will spend on transport service for guests. We can arrange a sweep pick-up and drop-off for group taxi bookings in Melbourne. If you're planning an event and would like to book taxi online service for your guests, call our friendly team on Melbourne maxi cab phone 0456108581 and ask for hourly rates and availability. Paying a deposit may be required to secure the booking.
Travelling with children's can be quite stressful as you cannot carry a baby seat with you. When you book taxi online with Melbourne maxi cabs just let us know that you need a taxi with a baby seat and we can send you the right driver. We can provide all kinds of baby seats including front-facing, rear-facing and booster seats. But as per the VICROADS rules in Victoria, you don't need to have a baby seated in a baby seat if you are travelling in a taxi.
The rule is if the baby is less than 2 years old when he/she needs to be on the lap and put the belt across. If the kids are over 2 then they need to sit on the back seat and put the belt around them.
To conclude and summarise here are the benefits of maxi cab why it's getting so popular
Sheer Size when travelling with a group or carry heavy luggage
Convenience: 24*7 Availability. No issues with late-night airport trips. Maxi cab to Melbourne airport or Maxi cab to Avalon Airport
Accommodative: wheelchair friendly taxi
Cost: Easy on the pocket with no surge pricing
Accredited and fully trained drivers